About Us
Beacon Default Management, Inc.
What We Do...
We are a highly specialized provider of commercial trustee services to attorneys, lenders, and special servicers on all types of commercial transactions. Our platform offers a large array of services allowing our client's the combined benefit of our unsurpassed knowledge, superior service and industry specific technology. Our team assists clients with a broad range of default amounts; there is no deal too small or too big.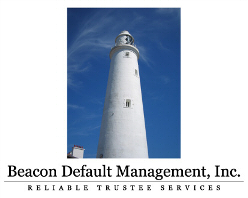 Below, please find an overview of the services Beacon Default Management provides:
Commercial Foreclosure Processing
Owners & Encumbrance Reports/Property Profiles
Assignment Preparation and Processing
Document Retrieval (Deed of Trust, Assignments, UCC Filings, Etc.)
Coordinate, Track and Monitor Document Recordings
Reinstatement / Payoff / Forbearance Preparation
Custom Client Reporting
Client On-site Training and Consulting
In addition to our core business model of trustee services we offer these additional services:
Coordinate title strategy on a national level;
REO referral network
Loss Mitigation Services
Deed-in-Lieu of Foreclosure Preparation & Processing
Full and Partial Reconveyances
National Referral Network
Case Resolution / Litigation Monitoring
Bankruptcy Referral & Monitoring
Eviction Referral & Monitoring
Lien Monitoring and Bidding
Web based up-to-the-minute sale status on all loans.
RANGE OF PROPERTY TYPES
The spectrum of secured asset classes and loan types we can handle include:
Cross-collateralized
High profile/landmark
High rise
Hospital
Hospitality
Industrial
Multifamily
Office
Partially constructed structures
Retail
SBA
Undeveloped lots & vacant land
Our Services
Non-judicial Foreclosures
Post-foreclosure Coordination
Loss Mitigation

Default/Foreclosure Title Services

Recording

Posting and Publication

Paperless Office Services

Toll Free Support

Document Preparation and Research

Foreclosure/Default-related Accounting